Venue
The meeting will be hosted at the Mathematics Department of the University of Coimbra (https://goo.gl/maps/ChAXfj2CzSJ4qybB8)
Coimbra is a beautiful city, home to one the oldest universities in Europe. It is located at the center of Portugal, with many interesting historical sites and unique monuments included in the UNESCO World Heritage list, such as the Joanina library (http://www.centerofportugal.com/joanine-library/).
The University of Coimbra has classrooms and conference rooms with excellent conditions, including internet network and audiovisual equipment. Different facilities can be booked for our meeting, such as an auditorium for the plenary sessions and smaller rooms for the splinter team meetings.
Travelling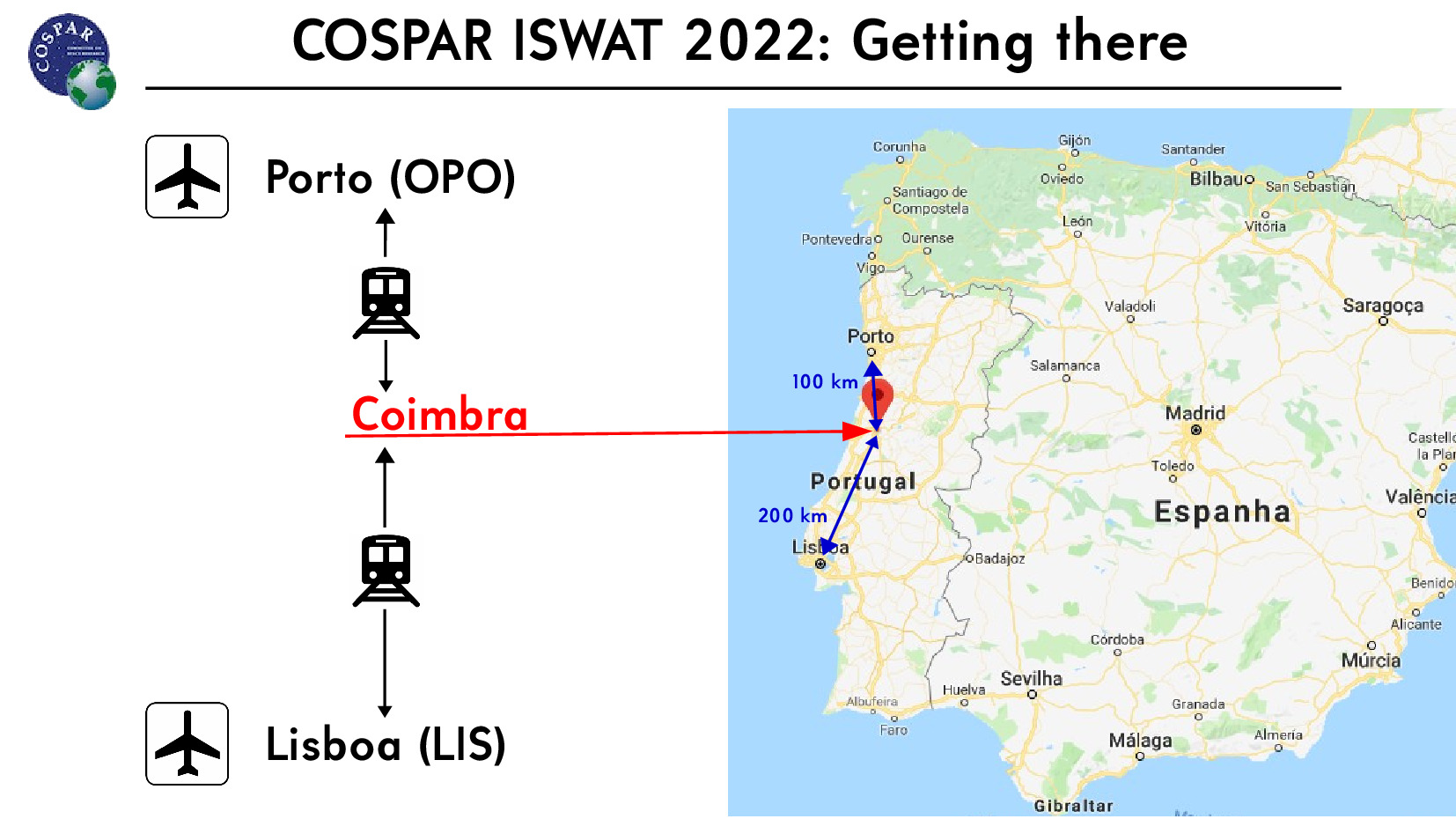 Coimbra is within easy reach from two international airports (Porto and Lisbon, respectively 100 km and 200 km away) and is very well served by public transportation.
From both airports, the simplest connection scheme is airport -> metro to central train station -> train to Coimbra.
From Porto (OPO) : get the metro right at the airport (line B) to the railway station CAMPANHÃ (the city's main trian hub).  From there, take a train to railway station Coimbra-B (trip duration of about 1 hour).
From Lisbon (LIS): get the metro at the airport (red line) to the railway station ORIENTE. From there, catch a train to Coimbra-B (trip duration of about 2 hours).
Once in Coimbra-B station, you can catch city buses to the city centre (~20-25 minutes) or a taxi (10-15 minute ride).
Train timetables and prices can be checked and booked at https://www.cp.pt/passageiros/en/train-times. Note that tickets can also be bought on-site at the railway stations (although for a higher price than if booked online in advance).
The "alfa pendular (AP)" and "intercidades (IC)" are the fastest trains and the best option to travel to Coimbra.
Coimbra city buses schedules and routes
SMTUC website (https://www.smtuc.pt/) or, alternatively,  via the Moovit app (on this webpage, or using the Android app and setting the location to Coimbra).
Airport shuttles and buses
Airport shuttles can also be booked online, and are usually not very expensive (close to the total price of a train + metro + taxi ride): https://www.airportshuttle.pt/
Coaches
There are also coaches between these and many other cities (frequent and usually cheap).
Driving
Driving is of course also an option. Coimbra is served by the motorway A1 (with tolls) that connects both to Porto and Lisbon.
Accomodation
Hotel rooms in the following hotels can be booked directly via the registration webpage:
Tryp Coimbra Hotel 4*
* 24 min walking distance. Located on alta (uptown)
Stay Hotel Coimbra Centro 4*
* 15 min walking distance. Located on baixa (downtown)
Vila Galé Coimbra 4*
* 24 min walking distance. Located on baixa (downtown)
Click here to reserve Hotel ibis Coimbra Centro (9 min walking distance) 
Please note that while most of Coimbra's city centre is fully reachable on foot, the city is hilly, and the Old University is located at the core of the Alta (i.e, "uptown"). Many restaurants and hotels are however located in the Baixa ("downtwon"). The walking times above try to factor this into account. Please use a trip calculator of your choice (google maps will show an estimation of the slopes when in walking mode) when planning your trip!
Many other hotels in proximity that can be booked via the usual hotel booking webpages. It is possible to find guesthouses and flats in the Alta (but the offer is limited):
- www Hostel & Suites 
- NN guest house
- Zero Box Lodge Coimbra
- AH 33 estudios
- AQ 188
- Riversuites
- Archisuites
- Penedo da Saudade Suites & Hostel
- Hotel Olso
- Hotel Ibis
- Casa da Sé Cathedral suites